Hmm, hair removal cream vs shaving. Which would you opt for? Ok, let's not beat around the bush – whipping out the razor in the shower and whisking off hair here and there is fast...
But it's not all silk and roses as it also means you'll probably be doing the same thing two days later! Day two of shaved legs feels more like little rose thorns, so you're back in the shower whipping around the legs again. And again the next day because the crazy stubble-on-stubble itch of your legs resting together kept you tossing and turning throughout the night. Shaving cuts the hair off at the skin's surface, making it grow back faster, and spikier than other hair removal solutions.
And don't get us started on the bikini line!
So, hair removal cream vs shaving... anyway, by now you're probably thinking, 'of course Nad's is going to say hair removal cream is better that shaving… they don't sell razors! And you'd be right.
But if Nad's founder, Sue Ismiel thought shaving was the best way to remove daughter Natalie's excess arm hair, there's a good chance we'd be in the razor business.
What we do know about the pros of shaving is that it's fast. But do hair removal creams work as well as – if not better – than shaving?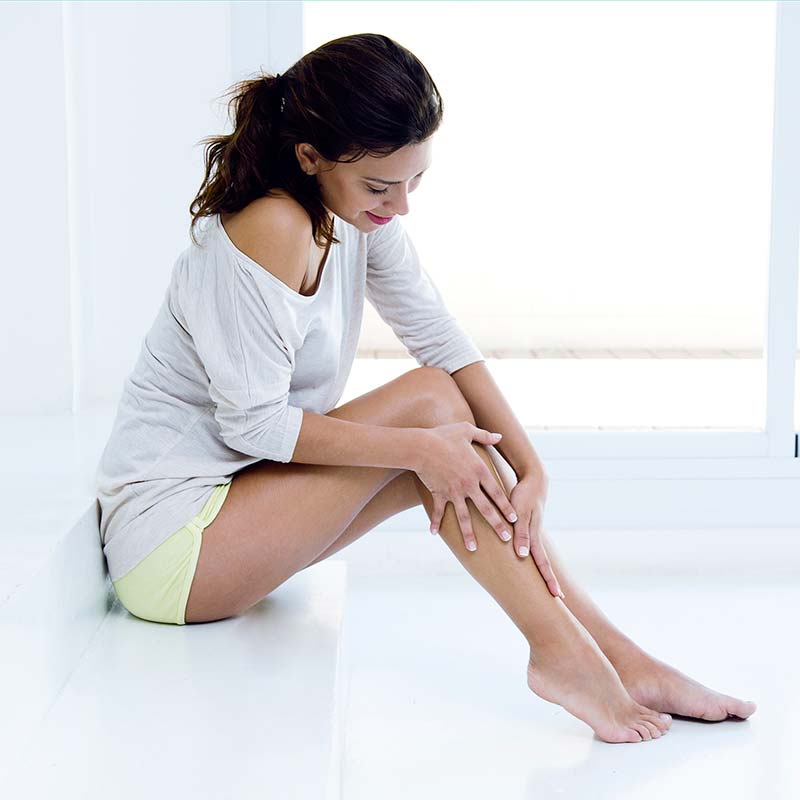 We asked Nad's beauty expert Natalie Ismiel to share her thoughts on hair removal cream vs shaving, and here's what she said:
1. Hair removal cream leaves skin feeling smoother for longer
While shaving cuts the hair off at the skin's surface, depilatory creams like Nad's Sensitive Hair Removal Cream dissolves the hair so it's more tapered and natural as it regrows. This also makes depilatory creams more suitable for the face than shaving. Try Nad's Facial Hair Removal Crème and remember to always read the instructions.
2. Hair removal cream comes with zero risk of cuts and razor burn
It may not happen every time you shave, but when you nick yourself, it stings and bleeds and just keeps stinging and bleeding. Add razor burn to the mix and you're going for maximum discomfort. There's no risk of razor nasties with hair removal cream. However, if you feel that your skin is a little sensitive, try Nad's Sensitive Hair Removal Cream and, as always, read the instructions before you begin. Our dream cream has a no drip formula is painless and super-fast; ideal for use just before you jump in the shower! The dream cream is formulated with natural extracts of Melon, Aloe Vera, Avocado Oil and Honey which help to soothe and protect the skin. An added bonus is that we've introduced an Odour Elimination Technology (this means it's a lot less stinky). Yay!
3. There's at least 4 minutes of 'me-time' built into every application of hair removal cream
Bet you didn't expect that in a tube of hair removal cream! Four minutes' quiet time behind the bathroom door is enough to give your eyebrows a quick tidy, listen to your favourite song at least once or send a text to organise a lunch date. Try doing any of those things with a razor in your hand and… well, see point two above. ;-)
In conclusion: hair removal cream does take a little longer than shaving, but it leaves your skin feeling soft, smooth and hair free for a little longer than a quick whisk around with the razor.
Don't take our word for it! See what others have to say about hair removal creams vs shaving…
"The Nad's Sensitive Hair Removal Cream is so easy to use; you just cannot go wrong with this product!"
"My legs were hair-free and smooth to touch. I was highly impressed!"
"For me, I always seem to get red little lumps EVERYWHERE after I shave."
"The only problem is that I find myself cutting my legs whenever I'm shaving and it's been very painful! Just yesterday I cut myself on my knee and before that I cut the middle of my leg."
For more reviews on our Nad's Sensitive Hair Removal Cream click here -
http://www.beautyheaven.com.au/trial/nads-sensitive-hair-removal-cream
Tell us what you think: which method of hair removal wins this beauty war for you – hair removal cream or shaving?