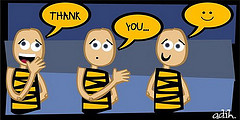 Nad's says "Thanks!" to these fabulous featured bloggers for the month of February : MarloPerry, Carli of Beauty Heaven, Trisha of Makeup Files, Jennifer of All Women's Talk and Christina Farrel of the Makeup Blogger.
1. MarloPerry.com - Nad's Gel Facial Wand Review

"If you're like me and extremely skeptical about having your brows 'done' by anyone else, this is the perfect tool. It's also a great product if you want to save money and start doing your brows at home."
2. Carli of BeautyHeaven for featuring the product review of Jesss2 in the Top3 reviews - volume 4

"To sum up all the pros it was quick easily accessible, no appointment making or having to go out to the supermarkets, I got to do it quickly in the comfort of my own home and I think that it was excellent I will be repurchasing."
3. Trisha of Makeup Files - Nad's Facial Wand Eyebrow Shaper Makes Me Nostalgic

"...the stuff worked well. It removed my hair without any problems, and residue is easy to wash off. Plus, you can rinse out the cloths and use them again. "

4. Jennifer of All Women's Talk - Nad's Facial Wand Eyebrow Shaper Review
"Do you want shapely, gorgeous eyebrows, without the hassle of tweezing or the mess of waxing? Then Nad's Facial wand Eyebrow Shaper is for you. It combines the long-lasting results of wax with the tidiness and ease of use of a pen."
5. Christina Farrel of The Makeup Blogger - Nad's Facial Hair Wand Remover
"Good to know there are some options out there that are easier and a little less painful than others. I was given the chance to try out Nads Facial Hair Removal Wand. It was easy enough to use, and the tip gave me the control I needed to get those nasty little hairs out."
Thank you for your unbiased reviews of our Nad's Facial Wand!
As part of our "We've Gone Social!" project, Nad's will be featuring bloggers every month.
Have you read about Nad's in your favourite blog? Nominate your favourite blog or blogger for our Monthly Featured Bloggers by leaving a comment below.
Cheers,
Michelle
Photo: Flickr : adihrespati