We don't want to alarm you, but badly-shaped eyebrows are bad news! This is because eyebrows are serious multi-taskers-- they express emotion and protect the delicate eyes from dirt, sweat and other contaminants. A Canadian study found that eyebrows were more important than even the eyes when it comes to facial recognition. Still need convincing? Flick through pics of celebs like Kim Kardashian and Katy Perry who have been brave enough to bleach their brows. The result is startling.

"Brow shape has a dramatic effect on how your face looks"
says Natalie Ismiel, a beauty expert at Nad's. "Good brows equal great impact, while an incorrect eyebrow shape can frame your face in an unflattering way". With many salons closed, we know brow shaping can seem daunting and that is why we've assembled some helpful tips for how to shape your eyebrows at home.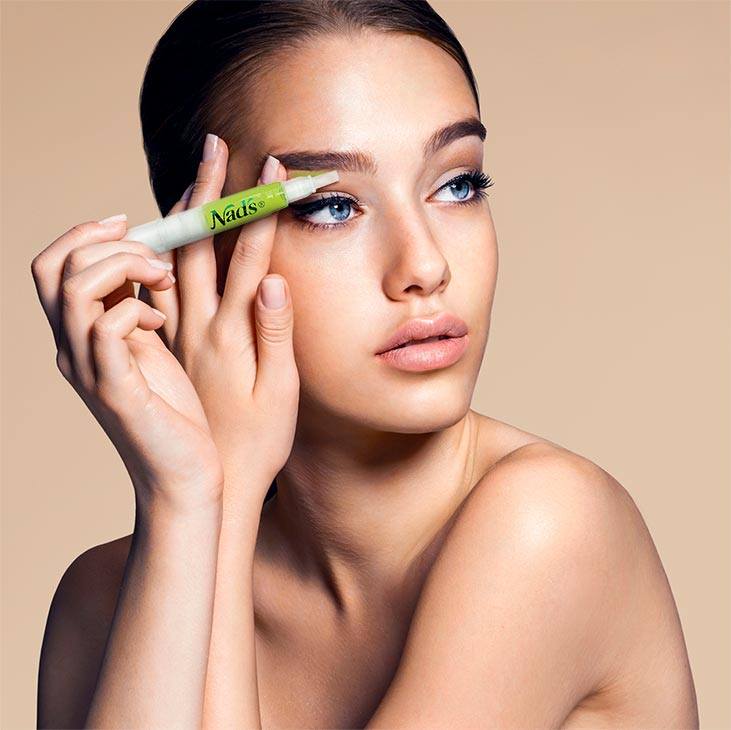 There are loads of ways to sculpt your brows, from threading, tweezing, and epilation. But waxing your eyebrows at home is not only easy to do, it's also fast and gives you long-lasting results. Our go-to for DIY eyebrow waxing is Nad's Precision Eyebrow Wax Wand, a slim-tip wand applicator made especially for brow shaping. It's like having a brow bar in your handbag! This easy-to-use eyebrow shaper gives you control when applying wax and a mistake-proof formula that easily washes away with water if you apply it in the wrong place or change your mind.
The first step in shaping great brows is identifying the right eyebrow shape for your face. "Use the natural space between your eyebrows and eyelid to determine the shape your brow should take," Ismiel says.
Grab an eyebrow pencil and a mirror and make note of Ismiel's four rules for shaping brows:
The inner edges of your brow should line up with the outside of your nose.
The highest point of your arch should be where the diagonal line extending from the outside of your nose to the outside of where your pupil would hit.
The outer edge of your brow should taper off at the point where your eyebrow and the diagonal line from your nose to the outside corner of your eye would intersect.
The bottom of your outer and inner edges should line up horizontally.
Prep the skin by making sure the area is clean. It's important to remove make-up, dirt, oils and moisturisers for best results. A pre-wax cleanse with Nad's Cleansing Wipes is essential
Next, how to wax your eyebrows. Briskly rub the wand between the palms of your hands for 30 seconds. This allows the wand to reach just the right temperature for best results. Remove the wand cap and slowly twist the end until gel appears at the wand tip. Note that when first used, this may take up to 20 twists.
To ensure the gel melts with your body heat, slowly and firmly apply a thin layer of gel in the direction of hair growth (hair growth should be at least 3mm long). Only apply the gel over the hair you wish to remove. Wash away any excess with water.
Place the cotton strip over the gel and firmly smooth over with your fingertips in the direction of hair growth. Hold the skin taut and quickly pull off the strip - in the opposite direction to hair growth. "Remember to hold skin taut with one hand and to pull close to the skin, rather than up into the air," advises Ismiel.
And finally, to pluck or not to pluck?
Pluck if you must, but proceed with caution. Ismiel says over-plucking is one of the most common mistakes people make when it comes to brow maintenance. Whatever you do, do not party like it's 1999. It can take months for your eyebrow hair to grow back, a literal lifetime in face years. Feel free to tweeze out stray hairs but don't go overboard!