Have you tried our Nad's Brazilian and Bikini Wax?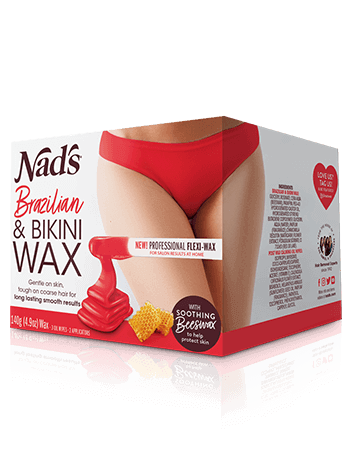 It is a hard wax that's microwavable and doesn't require any backing strips. Bare all or try something a little different with 4 specially designed templates to personalise your intimate region.
If you haven't tried our Nad's Brazilian and Bikini Wax kit yet, here are some of our customer reviews raving about our wax. It also won at the 2010 Australian Beauty Awards Readers Choice!
Top 10 Reviews for the Nad's Brazilian and Bikini Wax Kit
" I have really coarse hair, and so far this is the best bikini wax I've used. Its less messy than the other brands, and it still hurts but less than most."
"Best Wax I have ever used!
After trying numerous bikini waxes, I decided to order this one as a last resort. Needless to say, I am sooo glad I did! The wax dries quickly and removes hair better than any other wax I have ever tried. It is a million times better than those ridiculous wax strips that Walgreens and CVS advertise. I have had great results with this product and would recommend it to absolutely anyone."
"This wax is excellent- apart from a few minor problems with getting it to melt to begin with, it was easy to apply and easy to use. I didn't have any pain with it at all, just a few moments of mild discomfort but barely worth mentioning! It can be a little messy until you get the knack of it but other than that it was well worth it. Much cheaper, much less painful and much less embarrassing than a salon wax!"
"This is great. Sure it does hurt a bit more and takes a bit longer than at the salon, but I prefer it to going bottomless in front of a stranger. The wax smells great and is pretty easy to use, though it does take a little getting used to. Didn't irritate my skin or anything and the soothing wipes helped clean up any stray wax."
"I've been getting my legs waxed for the last 12 years and a Brazilian for the last 10years. I was so tired of spending the money to get this done that I decided to give it a go on doing it myself. I used at least 3 different products before I decided to give both the no heat wax and the Brazilian wax a go. Loved them both (and have been using them now for 2years). I decided to write this review to let people know that waxing yourself is Not going to be easy until you try it a couple of times and still it's not going to be as easy as having someone else wax you. The best advice that I can give anyone is don't give up if the first time doesn't work but try it again and find a position that is comfortable for you but also allows you to see what's going on."
"Bought this product online & it arrived in just a few days! I have really sensitive skin & shaving with razors usually leave me with rashes & cuts and the hair comes back even thicker. All I had to do was heat it up in the microwave, mix it up a little bit, and it was ready to use. This product removed the unwanted hair easily and it didn't hurt at all. I was afraid that it would hurt, but it was pretty painless. After hair removal, I used the baby oil (included in the package) to remove any pieces of wax still left behind. I used it on my arms, legs, & bikini area and all areas are now super smooth. It's been a few days after using the product and I don't have any bad side effects at all. I loveeee this product and I'm glad that I found it!!!! Will buy more in the future whenever I need it."
"Just used this for the first time and I can't believe how good it is. I have been to the same lady for the last 3 years as she is the best I've found to do a Hollywood and this was quicker and less painful than her. After 10 minutes of waxing I checked to see the patches I had missed and there were none! Moved onto my eyebrows and underarms. Best to have it fairly thick with a large dollop at the end to help pull it off."
"Whilst I've used wax strips on my face before, I had no experience with microwavable wax, let alone using it on my bikini line. The instructions were clear and simple, and whilst the wax took a bit more time to heat up, application was easy and relatively clean. I went over with the tweezers afterwards and removed any stray hairs, but over all it did quite an effective job and so far my bikini line looks a lot less bumpy than it did when I tried shaving! I will definitely be using this again."
Knockout (Drugstore.com
)
"Great Product!!! It does take some time because you have to heat the product often. If the product is not heated enough it will not work as well so make sure to have it the proper consistency. Other than that I would say it is one of the best products that I have used so far..."
"I have used many other hot waxes before and I love this one! A recently purchased Nair one I tossed in the trash can after half an application as it left everything there and left me with sticky underarms but this Nads one is fantastic. Its slightly more expensive but so worth the convenience compared to purchasing 2 or 3 others that all suck!"