Removing armpit hair is a personal choice, and whether you're doing it for preference, aesthetic or hygiene, it has nevertheless become an everlasting chore.
While shaving feels like an easier solution, it requires frequent maintenance and results are not always smooth. If you're tired of shaving your armpits every other day and are a newbie to underarm waxing, we've summed up the do's and don'ts to guide you through your wax session.
The Do's of underarm waxing
1) Do grow it out
Your armpit hair needs to be long enough for any wax to grip it (about the length of a rice grain). This level of hair growth typically takes 3 to 4 weeks from a previous wax, or about a week from the last time you shaved. If you've grown out your underarm hair overtime, be sure it's no longer than ¼ inch before your waxing session for a more seamless experience.
2) Do exfoliate your skin
Gently exfoliate the armpit area with a mitt or scrub to remove any dirt, clear the skin from dead skin cells, and to prevent ingrown hairs. Your underarms are sensitive, so be sure to exfoliate lightly to avoid abrasion to the skin. You should exfoliate a couple of days before you plan to wax, not the day of.
3) Do clean & dry your underarms
The first step to waxing your armpits is making sure they are clean. Wax will not stick to sweaty or sticky armpits, so avoid physical activity and steer away from using oils, lotions or deodorants before your wax session. Clean the area with soap and water, then dry the skin completely before waxing.
4) Do know your hair
Underarm hair can grow both upwards and downwards so be sure you are working in sections. Divide your wax session in two sections using a hard wax, like the Nad's Charcoal Bead Wax, so that you have more control when applying the product. Focusing on one area at a time, hold skin taut by lifting your elbow up, apply the wax in the same direction the hair grows, then pull off in the opposite direction. Repeat on the second section.
5) Do aftercare
Nad's Charcoal Bead Wax includes an after-care essential Post Wax Calming Oil to help remove any residue that may have been left behind and to soothe skin after waxing. Be sure to lather a fragrance-free lotion on your freshly waxed area to keep your skin hydrated.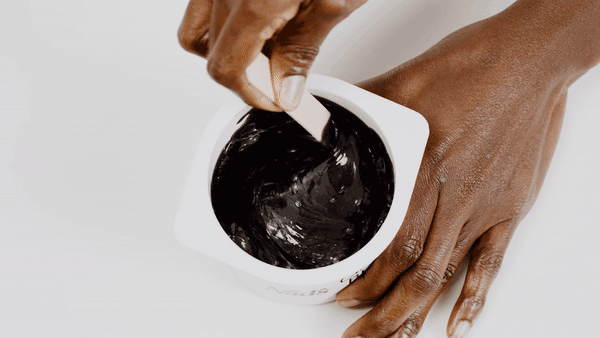 The Don'ts of underarm waxing
6) Don't wax sensitive skin
Avoid waxing if your underarms have a sunburn, rash, recent scar tissue, pimples, or other irritation. If you have sensitive skin, you'll want to perform a 24-hour patch test on a small area to see how your skin reacts before proceeding with a full-wax session. Another useful tip is to avoid drinking alcohol or caffeine before your session as this can cause the skin to be extra sensitive during waxing.
7) Don't wax the same area twice
Waxing on the same area of skin over and over will cause irritation. Opt for tweezers to remove any spare underarm hairs you may have
8) Don't wear tight clothes
Wearing tight clothing can cause rubbing and irritation to your freshly waxed skin. Your skin needs to breathe, so be sure to wear loose-fitting clothes after you're done waxing your underarms.
9) Don't use perfumed products for 24 hours
These include items like body sprays, deodorant, scrubs or self-tanner. They can irritate your open underarm hair follicles.
Unlike underarm shaving every other day, waxing provides results you'll love for weeks!
Following these do's and don'ts will give you smooth underarms with long-lasting results last up to 4 weeks!