Did you know your post wax care routine is just as important as the treatment itself for getting smooth skin?
Here are some simple things you can do to help nourish your skin back to normal and maintain smooth results after an at home wax. We've broken it down for you into three categories: body, face and sensitive areas, so you know just how to treat the area of skin you've just waxed.
Body
1. Keep your skin hydrated.
Using an all natural and/or a fragrance-free lotion after waxing can ensure your skin stays moisturised and hydrated. The key here is a fragrance-free moisturiser to avoid irritation to the skin. You can also apply cooling gels with natural ingredients like aloe and chamomile to help soothe freshly-waxed skin.
2. Reduce the risk of ingrown hairs.
We can do this a couple of ways: the first is to wear loose clothing to allow your skin to breathe and avoid rubbing on the area. If you're prone to getting ingrown hairs, you might also find our Nad's Soothing Ingrown Solution helpful to apply. It reduces ingrown hairs by targeting the building of dead skin cells that can block pores. It also has the added bonus of soothing the skin as it's formulated with aloe vera and chamomile.
3. Avoid exfoliation for 48 hours.
Remember: waxing leaves your skin and follicles more sensitive in the immediate aftermath of waxing. We recommend foregoing exfoliation for at least 48 hours post-wax treatment. Exfoliating straight after waxing can irritate follicles and encourage ingrown hairs.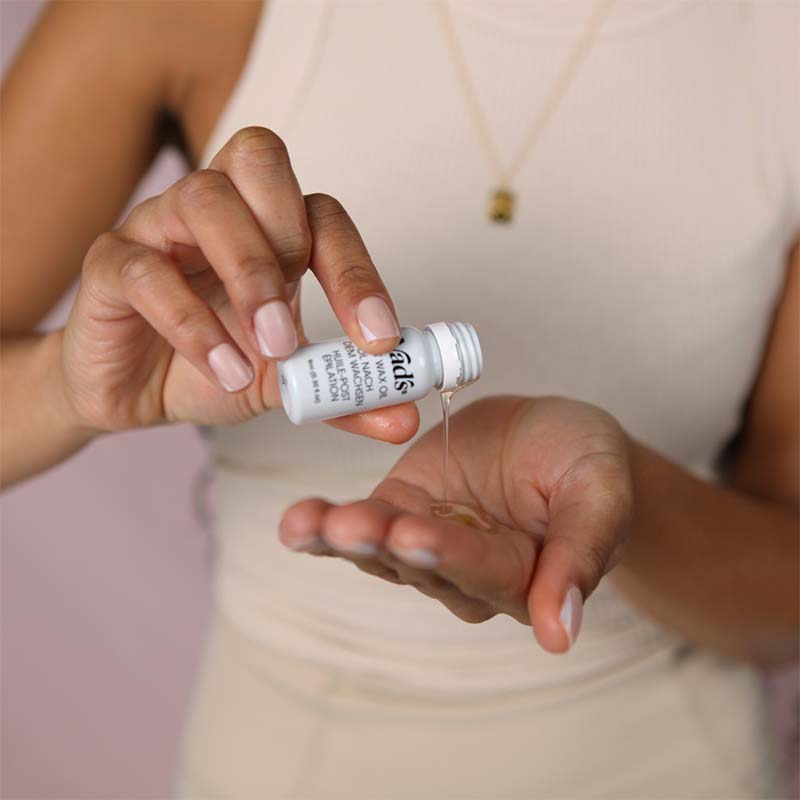 Face
1. Use quality, nutrient-rich products.
Look for light, soothing products that contain ingredients such as vitamin E, chamomile or candelula to apply after facial waxing. This will minimise redness and calm the skin. Sticking to fragrance-free natural products is always your best bet to reduce irritation! It's also important to use a waxing product that's specifically made for facial hair removal, like Nad's Hair Removal Facial Wax Strips, which are made with naturally-derived, gentle ingredients.
2. Keep contact to a minimum.
Although it's tempting to feel your silky smooth results, avoid touching freshly waxed areas. Bacteria from your hands can transfer and lead to clogged and irritated pores. Avoiding exfoliating your skin for at least 48 hours post wax will also reduce irritation to the treated areas.
3. Take it easy.
We're officially giving you a day off from the gym. For the first 24 hours post treatment, it's best to minimise sweating if possible. If you want to work out, keep it light.
Also try taking a break from the sun. Your skin is more sensitive and therefore more vulnerable to sun damage 48 hours after a waxing treatment.
4. Avoid makeup…
For normal skin, 10-12 hours of skin resting time should be enough before you apply makeup. For our sensitive skin girlies, it's best to wait at least 24 hours if you can.
Sensitive Areas
1. Underarms.
Avoid using perfumed products for 24 hours after waxing. This includes body sprays, deodorant, scrubs or self-tanner. They can irritate your open underarm hair follicles and increase the likelihood of ingrown hairs developing, which of course we don't want!
Your underarms are a high friction area so post-wax care is super important!
2. Brazilian & Bikini Areas.
Using high quality waxing and after-care products will help ensure your most sensitive area has the best chance at healing irritation and ingrown free. Opt for a wax that is specifically formulated for treating the bikini and brazilian areas. Try Nad's Hair Removal Brazilian & Bikini Wax or Nad's Hair Removal Eco Bikini Wax. After applying a post wax solution, regularly moisturise with a light water based moisturiser with soothing ingredients.
Ready to embark on your DIY waxing journey to silky smooth and hydrated skin? Finding Nad's hair removal products is easy here!