Sensitive skin can be a challenge when it comes to hair removal, but it doesn't mean you have to miss out on the convenience of at-home waxing. With the right products and techniques, you can achieve smooth, hair-free skin without the irritation.
1. Choose products with natural ingredients
Choosing high-quality wax with natural ingredients is essential. Look for wax that is preferably hypoallergenic and dermatologically-tested like the Nad's Natural Hair Removal Sugar Wax Kit. Containing ingredients you could find in your pantry, this wax is perfect for use on sensitive skin from head to toe.
2. High quality ingredients
Both the Nad's Facial Hair Removal Cream & Nad's Sensitive Hair Removal Cream contain ingredients including almond oil for moisturisation and hydration, calendula for its anti-inflammatory and antibacterial properties, melon extracts for a refreshing and calming effect, and aloe vera for its soothing and hydrating qualities.
3. Experimentation is key
Different hair removal products may yield varying results. Try both hard and gel wax, or even opt for a natural sugar wax.
Our Sensitive Hair Removal Body Wax Strips are made with natural beeswax and contain soothing honey and chamomile extracts to ensure a smooth hair free result.
For more delicate areas or if waxing isn't for you, try using a sensitive hair removal cream. Each person is different so it might take one or two attempts to find the perfect product that works best for your skin.
Experimentation is key when dealing with sensitive skin.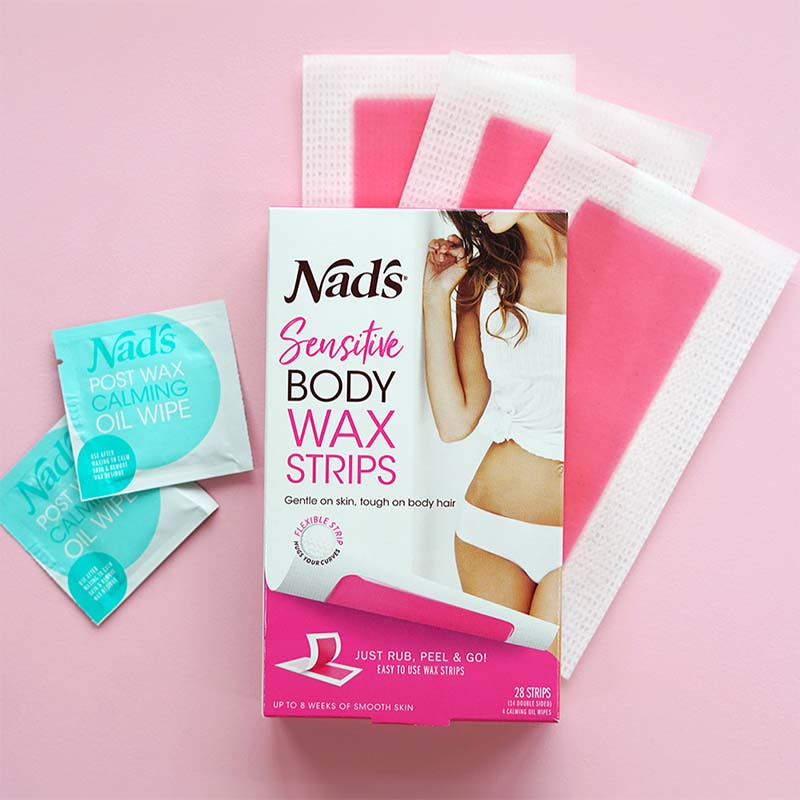 4. Don't underestimate the importance of post-wax care
Aftercare is essential for maintaining healthy, irritation-free skin. Invest in high-quality aftercare products that contain soothing ingredients to calm the skin and reduce redness. Nad's Ingrown Hair Solution, for example, is made with Aloe Vera, which helps soothe and protect your skin after waxing.
5. Stay hydrated
Hydration plays a vital role in post-waxing skin care. Apply a gentle, hydrating lotion or oil to your skin after treatment. This replenishes moisture and prevents dryness, keeping your skin soft and smooth.
6. Avoid tanning for 48 hours
If you're considering fake tanning, it's wise to wait at least 48 hours after waxing. Some fake tans can irritate the skin and disrupt the healing process. Give your skin the time it needs to recover before applying any tanning products.
With these tips in mind, you can confidently tackle at-home hair removal, even if you have sensitive skin. Prioritise high-quality, soothing ingredients, and proper post-wax care to ensure a comfortable and irritation-free experience.
As with any new waxing product, don't forget to follow the instructions to do a patch test on a small section of skin before proceeding to full application. This will help to ensure you are only using products that are suitable for your specific skin type.
Achieving smooth, hair-free skin at home with sensitive skin has never been easier.