Nad's, your at-home hair removal solution that brings the salon experience right to your doorstep.
With a variety of product ranges designed to cater to different preferences and needs, Nad's has something for everyone. In this guide, we'll help you navigate through the options and find the perfect Nad's product for you.
Salon-Quality Results in the Comfort of Your Home
Nad's is your ticket to salon-quality results without leaving your home. The beauty of Nad's hair removal kits lies in our comprehensive packages, which include everything you need for a successful hair removal session. From easy-to-follow step-by-step instructions to post-wax cleansers and soothing balms, Nad's leaves no stone unturned in ensuring your hair removal experience is not only effective but also comfortable.
Nad's is your ticket to salon-quality results without leaving your home.
A Range of Choices to Suit Your Preferences
We understand that every individual is unique, which is why we offer a diverse range of wax and hair removal cream options to cater to different preferences and comfort levels. Let's explore some of our popular products!
Nad's Hard Wax
Ideal for body waxing, Nad's hard wax provides an efficient solution for hair removal. This is the wax most commonly used in salons and is fast to use as it doesn't require cotton strips for removal. It's perfect for those who want longer-lasting results and are comfortable with the waxing process. Try our Strawberries and Cream Waxing Dots for fun face, body and underarm waxing, our Eco Salon Wax for an environmentally friendly waxing experience anywhere on the body, or Brazilian and Bikini Wax for sensitive areas.
Nad's Strip Wax
If the idea of an easy, mess-free application appeals to you, Nad's strip wax is your go-to option. Beginner-friendly, strip waxing is a great introduction to the world of at-home hair removal. For a natural experience try our Natural Body Wax Strips, if you're an O.G. Gel wax lover our Body Wax Strips are for you, and for our sensitive skin gals, we've formulated our Sensitive Body Wax Strips just for you!
Nad's Gel Wax
Beginner DIYers will love Nad's gel wax, which offers the added convenience of washing off with water. No heating required, making it an excellent choice for those new to waxing. Our Original Gel Wax and Sugar Wax Kits also come in a range of formats for you to choose from. Whether it's in a kit, strip or a precision eyebrow pen, we've got you!
Nad's Hair Removal Creams
Not a fan of waxing? Nad's has you covered with our range of four hair removal creams to pick from. While not as long-lasting as waxing (as they dissolve the hair rather than removing from the root), these creams provide a pain-free solution that gets the job done quickly. For the face: Our Hair Removal Face Butter is great for removing peach fuzz and dead skin cells. For more sensitive skin, try our Facial Hair Removal Cream, it's formulated with almond oil and calendula to soften and soothe delicate facial areas - you could also use our Sensitive Hair Removal Cream for the body. Our 3-in-1 Hair Removal Body Butter is a great option for those that like to multitask - apply the butter, and you can rinse it off in the shower!
Effective Hair Removal for Lasting Results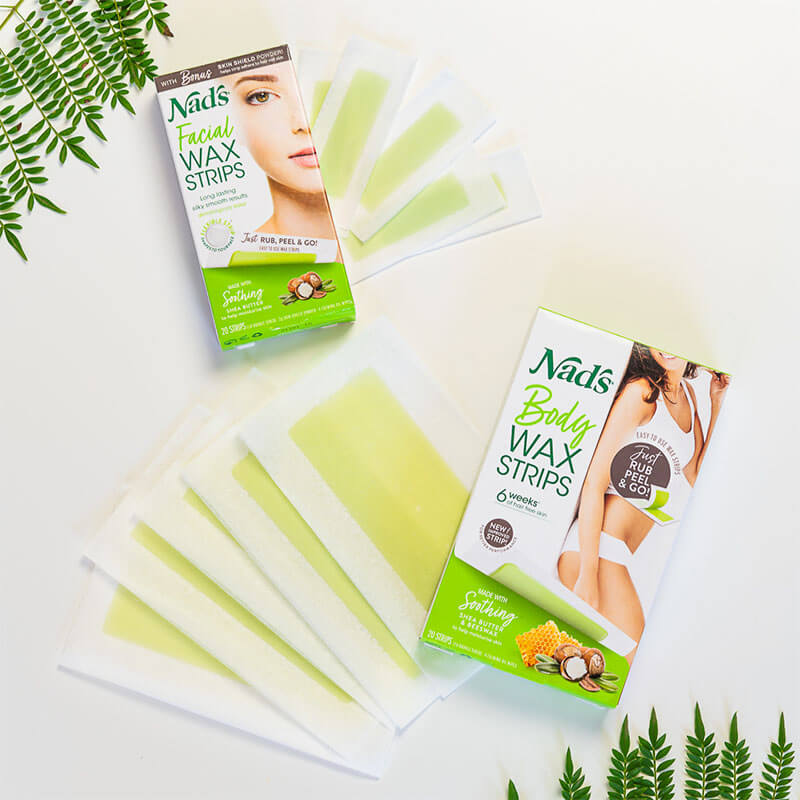 When it comes to hair removal, Nad's products offer effective solutions that cater to different preferences. Hair removal creams provide a pain-free experience, with a simple application, wait time, and wipe-off process. On the other hand, waxes, while slightly more intense, offer longer-lasting results (4-6 weeks) by removing hair from the root. The best part? All Nad's products are designed with beginners in mind, ensuring that anyone can achieve successful hair removal at home.
Where to Find Nad's Products
Ready to embark on your journey to smooth, hair-free skin? Finding Nad's products is a breeze. Simply head over to nads.com and use the stockist locator to find a retailer near you.
With a range of options catering to different preferences and needs, Nad's has revolutionised the way we approach hair removal. Choose the Nad's product that aligns with your preferences, and enjoy the confidence that comes with beautifully smooth skin.