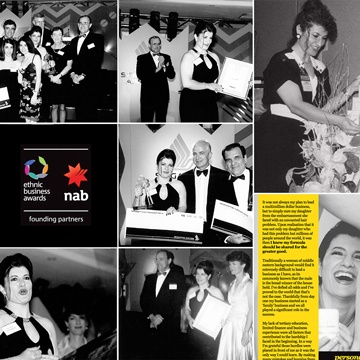 Time flies fast! Not so long ago, I won the 1999 Ethnic Business Awards. You can watch the video
here
. It was a wonderful feeling to be recognised by Australia's longest running national business awards program recognising the achievements of migrants like me.
This year the Ethnic Business Awards is celebrating their 25th year anniversary. I was once again chosen as a finalist for the title "Champion of Champions". All finalists were drawn from a select list of past winners and finalists.
I'm very humbled to be part of a group that the Ethnic Business Awards refers to as "some of Australia's most remarkable business stories."
According to Awards founder, Mr Joseph Assaf, "They represent some of the very best examples of new Australians, and First Australians, starting with an idea and turning them into an iconic Australian business."
Last Monday, I received news from the Ethnic Business Awards Committee that I'm one of the Top 12 finalists and the only woman in my category!
It is a great feeling to be recognised... but the best part is the ability to inspire others to dream big and make it happen.
Migrating to Australia from Syria as a young woman with virtually nothing... to being the CEO and Founder of a global depilatory brand - Nad's; is a living testimony for others to believe that you control your own destiny.
Just like the other finalists, I was a migrant with a "suitcase full of dreams". The start wasn't always easy, but with perseverance, hard work and passion to be successful...I made my dreams come true.
Warm Wishes,
Sue Ismiel
CEO and Founder of Nad's