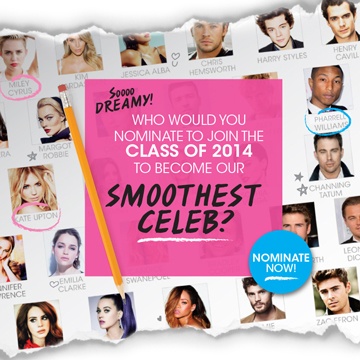 It's that time of year again. The office has been a hive of gossip & giggles with the selection of our 5 male and female celebrity nominees for this year's Celebrity Smooth Award.
We're calling on our customers, fans and followers to decide who will win the Nad's 2014 Celebrity Smooth Award. You can place your vote simply by visiting nads.com, facebook.com/nads or simply follow this link.
The Nad's Smooth Celebrity Awards are a celebration of who's hot across the globe. We champion those celebrities who not only have that smooth and sophisticated sexiness, but also a clean and healthy image. Previous winners include Katy Perry, Taylor Lautner, Beyonce Knowles and Channing Tatum.
The 2014 nominee's are: in the men's category - Henry Cavill, Idris Elba, Chris Hemsworth, Ryan Gosling and Ian Somerhaulder. And, in the women's category - Scarlett Johansson, Margot Robbie, Emilia Clarke, Mila Kunis and Sophia Vegara.
Our winners will be announced in June – watch this space.
Sue