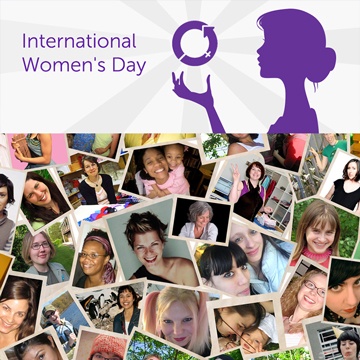 Today is International Women's Day again! I would like to share a speech that I made in celebration of this special day.
I made this speech a few years ago, but I would like to take this opportunity to share it to a wider audience by posting it in our corporate website. I hope you enjoy reading this speech I made in honour of Women.
- Sue Ismiel
Honoured / Past Women
I am honoured to stand before you today as a business woman leading a global organisation from an office based right here in Sydney.
A woman with hopes, dreams and aspirations.
A mother, a daughter, a sister, a wife and a very proud grandmother!!!
A woman who has the right to vote, to choose, to empower & encourage other women to have a go and make the most of every opportunity presented. A woman on a mission - to make a real difference in people's life.
The reason that I can have all this, be who I am, achieve all that I can, is because of the courage, the strength and determination of women before me - women who had the confidence to stand up and ask for women's rights to vote, to be heard and to be valued - more than 100 years ago.
It is because of these extraordinary women, we all have the freedom we enjoy today!!
International Women's Day
International Women's Day is a day for all women, all over the world. Today, we get a chance to take a look at how we've lived our life. Reflect on the choices we make as women and the impact of these choices on our own life, our families, our country and the world at large.
Defining Moments / Dirt Road
Today's celebration is a great opportunity for me to reflect on the most defining moments of my life. Those moments that helped me transform from a lost and confused little girl, to who I am and what I have achieved today.
The first significant moment in my life was at the age of 14. I was walking down this dirt road. From a distance I noticed a giant ball of dust heading my way. As it got closer, I realised it was a car, I got excited. A car in this part of the world, we hardly ever see cars in this tiny village in Syria by the border of Turkey. I wanted to know who was driving. To my amazement as the car drove past I noticed a woman driver. I was mesmerised - never in my wildest dreams did I ever imagine that a woman was capable of driving. I wanted to drive so bad. I got lost in the world of driving, I could see myself inside the car, I could smell the leather interior - in my mind and in my heart I was driving - my wish came true, a year later we migrated to this amazing country of Australia and I got to drive here.
Today, I don't care much about driving, but I am sitting in the driver seat of my family business. I have to know exactly when to turn right and when to turn left and when to stop at the red light and when I am driving in the dark, I must trust that this glimpse of light will help me get to my destination safe & sound.
Arrival to Australia
Another defining moment in my life was in 1974 upon my arrival to this country Australia from Syria. I can see myself lying flat on my face on the floor of that school bus being assaulted by a group of girls because I could not speak English. But then when I fast forward exactly 30 years from that devastating moment and I reflect upon the greatest honor of my life ( the nomination for the Australian of the year Award in 2004). I mull over; what I had to do, the strength I had to draw on to change that unbearable situation, to where I am today. Accepted and embraced by my fellow Australians.
They say, where there is no struggle, there is no strength!!
No doubt, as women we are faced with never-ending struggles and obstacles. For me today it is important to remember the difficult times I was faced with, as a mother and a Middle Eastern Woman who's first and foremost priority even in today's world is perceived to be dedicated to her family. The overwhelming amount of personal & professional growth I had to endure and invest in to overcome the many obstacles I was confronted with as I was building my family business from the ground up - lack of support, no formal education, no financial backing or business skills, are just a few hurdles that I had to overcome and at the same time stay true to my core role, watching my three beautiful daughters grow and become extraordinary young women, holding senior executive roles in my business, and pursuing their own dreams and aspirations in life.
Grandmother's Story
International women's day without fail, forces me to remember my grandmother's story and draw energy and empowerment from her experience. A woman of substance, I never got to meet but got to know through my mother, who to this day grieves every time she tells her mother's story of courage, will and determination . A woman restricted by law and oppressed by her own man for stepping outside what was considered to be the "norm" for women in those days and in that part of the world . For starting a business, providing for her family, turning an idea into reality – trying to be someone and achieve something worthwhile.
By the side of that dirt road in Syria lived my grandmother, her disabled husband who was paralysed from the waist down and their young children. My grandmother had no one to turn to when her husband became disabled but herself - to rescue her family she had to acquire her entrepreneurial skills, turning home produce into sellable items. She opened a grocery store in that tiny village, travelled for days on that dirt rocky road, to the capital city , buying grocery goods for her tiny store. Providing for her family and the small community. She was vibrant, confident, immaculate, passionate and totally committed. Great qualities completely foreign to women in that part of the world, in that era!
Sadly my grandmother was judged, criticised and punished for being who she was. The verbal, emotional and physical punishment was instigated by her own husband and carried out by the authorities.
My grandmother had no idea that in other parts of the world at that same time, women were fighting for their birth-rights - I am sure she is now smiling in her grave for what these extraordinary women have achieved – thanking them for giving me (her granddaughter) the opportunity to continue her legacy and have the freedom to showcase the success of my business to the world.
Even in today's world, men are still threatened by women's success. I am sure my grandfather's greatest fear was driven by his own inabilities, his ego, his uncertainties.
I am sure somewhere in the world even today, there are women treated just as harshly as my grandmother had a century ago. The question is how can we help, lend a hand and make a difference.
Today, in this part of the world as women, we have come a long way. But there is no limit to what we can achieve!
Oprah Winfrey, one of the most powerful and highly respected women in the world says
"Self-esteem comes from being able to live your life on your own terms and refuse to become a victim of judgment".
Positive attitude and self belief play a huge role in having the ability to chase your dreams. I am fortunate to have been able to manage the expectation and the emotions of the most important men in my life, my father, my brothers and my husband. I was able to make them see me as an independent individual.
I must admit, it is very hard to attempt to change a mindset, a ritual and a certain belief that says women can only succeed as the result of a man's success. But with hard work, determination and courage I have been able to win their support. I have been able to convince them that gender has no relevance to being successful in life.
I don't know where I'd be today without the blessings of the men I care for most in life.
Blacktown Council
When Blacktown council approved my application to produce the formula I developed in my kitchen and allowed me to produce it in my backyard garage, I was on cloud nine. You see for 12 months prior to council's approval I was on a mission, it was like the military mission I just had to solve my daughters unwanted hair problem. I turned my kitchen into a laboratory and used the men in my life as Lab rats. Dad, Sam, everyone had bald patches all over their legs and arms. And when I got that approval notification, the first thing I did was pick up the phone and call dad and with great enthusiasm I assured him that his efforts had not been wasted, I said "Dad,I am on my way to become a millionaire!!!" My father's response was - oh my dear I'd love to live to see that day! Well let me tell you that my father is well and alive and he has been witnessing the success of Nads go from strength to strength. Launched as "Aussie Nad's" in the world markets.
Australian Icons
Unlike my grandmother 100 years ago, the advantage for me is living in the greatest country in the world, this land of opportunity where I am able to present Nad's as an Australian Brand, showcased next to the images of our famous Australian Icons - the Harbour Bridge, the Opera House and our sun drenched, immaculate beaches, these images helped me sell my product Nad's to the world market and enabled me to compete on a global platform.
I'm proud to have been able to give back to the country that helped make the impossible become possible. I am proud to have the ability to provide employment opportunities and bringing export dollars into Australia.
But you do get to know who you really are in a crisis!!
My business experience over the years taught me about the (2) opposites of life - that there is no high without low – no light without darkness – no strength without struggles and no success without failure.
After 15 years of hard work and dedication to building this success, I thought I was due for a well deserved break and decided to take a year's sabbatical!
In November 2005 exactly 12 months since I handed the reins over to someone else, I came back and found the business I built, nurtured, and turned into a multimillion dollar global enterprise - recklessly destroyed and demolished.
The people whom I loved, nurtured and developed had been sacked and the remaining ones consumed with fear, uncertainty, guilt and hopelessness.
Millions of dollars had evaporated and spent recklessly on useless advertising campaigns - the business was drowning in debt. For the first time ever in my company's history we were reliant on the mercy of the bank.
The friendly business environment was replaced with icy cold and eerie feeling. The open, friendly and honest business culture was changed to a ridged, tough and hidden agenda type. I could not recognise my own business.
I found my three beautiful daughters who had grown and blossomed in the same way our business grew over the years, scared, shattered and confused.
My daughter Nadine who is referred to as my "Clone" and has always been groomed as my successor was consumed by feelings of guilt and responsibility for what happened in my absence.
My sister developed panic attack syndrome in her role in accounting and continually blamed herself for not blowing the whistle at the right time.
What do you say to your husband who always encouraged you to take time off and go to a deserted island together? Do you blame him for this? Do you understand his reasons? With these confusing thoughts I could've easily lost everything including myself along the way.
The millions of thoughts that rushed into my head coupled with painful emotions and feelings almost destroyed me. My internal dialog was about self blame, frustration, anger and depression. I found myself curled up on my couch crying myself to sleep.
The ironic thing is that I knew for sure that what we dwell on is who we become – be it negative or positive – I've seen it happen time and time again. It was like an uncontrollable sabotage or extreme self punishment.
But somehow with glimpse of clarity the dark cloud begins to move away and you start asking yourself the right questions! Accepting what is but what are you going to do about Sue Ismiel became my main focus.
It was my responsibility to free everyone including myself from self blame and guilt and help everyone regain their confidence and self belief.
Positive Outcome
Looking back today at that significant downfall in my life, whilst devastating at the time, today I have nothing but gratitude for the experience. I have come out a much stronger person and more determined than ever. I know now that going back to basics, reflecting on the power of attraction that I acquired at the age of 14 and regaining my entrepreneurial spirit not only rescued my family business but presented many other opportunities to me.
That is when I became totally convinced that there is no strength without struggles.
Nad's Laser Clinics business was born – an idea that was ridiculed and criticized by the marketing team -another arm to our FMCG business, a service arm, but my vision was so clear it almost burnt my eyes. I could see these clinics everywhere and I can still see them popping up in every major city around the world.
PuraSkin another great opportunity came our way, an acne solution created by my eldest daughter Nadine to solve her own acne problem. When Nadine suffered from Acne, we didn't just wish the problem to go away, Nadine spent years of her life trying to solve her own problem. History is being repeated, Nadine and I will be seen on the morning shows presenting this acne solution to the world. At that point were able to define our Company mission "commitment to enhancing quality of life with problem solving solutions".
Today, We look forward to the next problem or challenge we face – we don't dwell on the problem, we look for the lesson and the gift that is found in the heart of every challenge and we say for as long as there are problems in the world, our business will continue to thrive.
Three Daughters
The involvement of my three daughters in the business is invaluable, it completes the circle. Each one of them holds a critical role in our family business.
Nadine and Natalie are very proud mothers themselves. My grandchildren are the sunshine of my life. When they come into my office, the whole world stops – nothing else matters in my life, they are my therapy & my meditation. They are the future leaders of our family business.
Awards
International women's day reminds of my good fortune to have been presented with numerous awards over the years.
100 years ago my grandmother was punished for her achievements, today my hard work and efforts have been recognized & validated as being worthwhile.
Winning awards amplifies your level of confidence. I have received numerous over the years and I am not going to mention all of them but right now I am reliving those moments in the spotlight – receiving the Entrepreneur of the Year Award when one woman in her white dress stood out like a sore thumb against 40 men in their black suits and somehow managed to snatch the big trophy and put it under my belt.
Another extraordinary moment is when I earned my Guinness world title for waxing 32 pairs of legs in one hour.
Giving Back
With success, comes an obligation and a strong desire to give back and make a difference to people's lives.
The greatest law of life is the Law of giving and receiving. Giving and receiving go hand in hand, one cannot exist without the other. Deepack Chopra says giving and receiving is a natural flow of energy and it works in the same way that the millions of cells in our bodies work, they must give and receive blood from one another; if one cell only refused to give blood, the whole system gets clogged then disease will take over. Success is a symptom of the positive flow of energy in your life.
Giving love, guidance, support and compassion naturally presents unlimited possibilities in our life.I have been involved with many charitable organizations. From providing shelter for battered women and their children, to sponsoring over 100 children in Ethiopia, to helping raise over 250K for the Poppy appeal. But the biggest commitment of all was a $600,000 donation, for the Sue Ismiel International Study into Women's Health and Hormones to investigate the role hormones play in women's health and wellbeing and to find out the link between hormones and depression in women. This study set new benchmarks in international research. Results have been published in the US medical journal and endocrinologist Dr Sonia Davison has won three prestigious awards for her work on the Sue Ismiel Study.
Polycystic ovarian syndrome is a condition that affects millions of women around the world and yet there is very little done about this condition. Women suffer from diabetes, heart problem, depression, infertility, excessive unwanted hair growth, obesity, acne etc. These conditions are very serious and deadly if ignored. There is also a stigma attached to being diagnosed with PCOS because of the physical embarrassing signs. Excessive Unwanted Hair problem is the number one concern for PCOS suffers. Hence my ongoing commitment to supporting this condition.
20 years ago I may have been very excited about the idea of becoming a millionaire, but when I got there I realized that's not what it is about – in fact, there is a more profound reason for my resilience. I know now that giving back, making a difference, helping someone in need is the true meaning of fulfillment and achievement!
Knockers & Doubters / Networking – CEO Institute
As you would expect, I have come across many knockers and the doubters in my life - the people who say you can't, that it is too hard, you belong at home. For me Positive attitude ,never take no for an answer and knowing that there is always a way no matter what others say or think enables move forward. I am grateful, in this day and age, I have been applauded, accepted and encouraged. I have been treated just like any other business owner; gender has never been a major barrier for me.
Reality is we still live in a world dominated by men. And I believe Attitude is the most essential part of ensuring you are treated with equality. I am the only woman in our syndicate at the CEO institute. The other day I said to the chairman of our syndicate – you had better not lose me because I am rare. He laughed, but he thought about it and I am sure the CEO institute and other networking organization would do everything in their power to attract more women. When I am amongst my fellow CEO's, gender is irrelevant, we learn from each other's experience in a confidential environment.
In my business world, it is never about competing with men - rather it is about learning from each other - how can they compete any way? Women have charisma & compassion and we also multi task. Cook, clean, raise a happy loving family, lead a business, win awards and the list goes on. There is no limit to what we can achieve and how we can help shape the world.
In Closing
In closing, all I can say is this is how I continue to live my life as a businesswoman, a mother, a daughter, a sister, a wife and a very proud grandmother.
I truly believe that the world is our oyster, the women before us fought tirelessly for our rights. Our rights to vote, to be heard, to succeed and achieve. These extraordinary women had positive attitude, belief in themselves, courage to face their fears head on and discipline to continue no matter what – they truly made their mark on this planet.
You can do the same. You can help shape the world for future generations of women. Our civilization depends on you able women...those - who can love, nurture and lead!