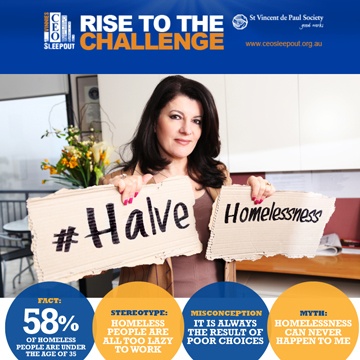 It is a tragic aspect of our culture that people experiencing homelessness, in addition to suffering the physical and emotional hardship of their situation, are often subject to alienation and discrimination by many areas of our society. Unfortunately, this alienation and discrimination often springs from myths and stereotypes.
It's hard to imagine a loved one living on the street, freezing days and nights surviving on peoples left overs, all alone and abandoned.
No amount of money, recognition or any level of success would make me feel good about myself knowing that someone I know and love is living in these conditions. I would do anything in my power to rescue, help and get them on the right track to live the life they deserve.
These people may have a mother, a father maybe a sister or a brother however the fact remains, they are still homeless.
As someone who is dedicated to solving problems, I am committed to experience homelessness first hand for the Vinnies CEO Sleepout.
Please support me in my quest to raise a goal of $5000 to help halve homelessness.
Warm Wishes
Sue Ismiel
CEO and Founder of Nad's