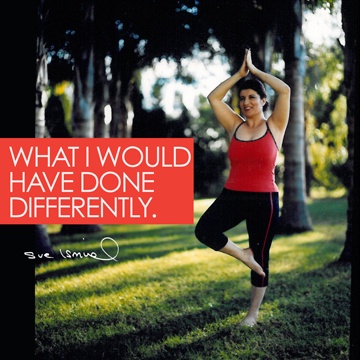 If you've read my recent blogs you'll know I'm a great believer in looking for opportunities in every setback, and I find myself feeling gratitude for even the hardest lessons.

But I was asked in an interview recently if there was anything I would have done differently in the course of growing a successful business and I had to stop and think. I've always worked hard and pushed myself to achieve the goals I'd set, believing that there is always a way, no matter how big the vision.
And there it was, the one thing I'd do differently: I wouldn't have pushed myself so hard. I didn't realise it at the time but as an entrepreneur in a growing business my number one asset was me; and day after day, for months on end, I'd been bleeding that asset dry; mentally, physically and spiritually.
There had been signs I was pushing myself to exhaustion but I ignored my body's cries for rest and paid dearly with a bout of glandular fever that knocked me flat for months.
Everything I had striven to build and grow and be was at risk because I had not taken care of my most important resource: myself.
When we're forced to take stock, each of us will find a different way forward and for me it began with yoga. I say it began with yoga because the more I got into my practice the more I realised that there could be no way forward without it. Yoga helped me get in touch with the creative space I had so desperately craved and in that I found a place of peace and self-compassion.
When I was able to return to work, the vision hadn't diminished but the way in which I went about achieving it had. I gave myself permission to delegate more to my very capable team and made a pact with myself to consciously exercise self-compassion until it became a habit.
This regime has served me very well in the years since and my business has benefitted greatly having an energised, clear thinking, focused and consistent leader at the helm.
However there is postscript to this story: earlier this year, my regime began to slip. While I haven't lived in Syria for 40 years, my heart broke as my family's homeland descended into turmoil. From the other side of the world, my family and I stood helplessly by as our people where targeted. Long sleepless nights and constant worry took their toll and soon it seemed it was all I could think about. And then I realised that as the worry had mounted, I'd given away the very thing I knew kept me balanced and clear: my yoga practice.
Here is what I discovered along the way:
You will be more effective when you give yourself timeout each day, whether it's yoga, meditation, a walk around the park or just sitting quietly with a good book.
Don't be afraid to delegate. Let go of the need to do it all yourself and allow the people around you to step up.
Recognise that it's human nature to be consumed by upsets, so have a plan in place to ensure that when turmoil comes your way, you continue to look after your wellbeing.
You, your family, friends and business depend on it!