Nose waxing has been a growing trend in beauty salons since 2009. For most of us, nose hair trimmers are just not cutting it anymore, leaving hair behind and of course the regular maintenance that is required is very annoying. Then you've got the brave few that make the trip to the beauty salon to have a paddle pop stick shoved up their noses to remove more than what's required and in the midst of things endure senseless pain!

Thankfully, Nad's Nose Wax offers a safer, easier and less painful option for removing nose hair.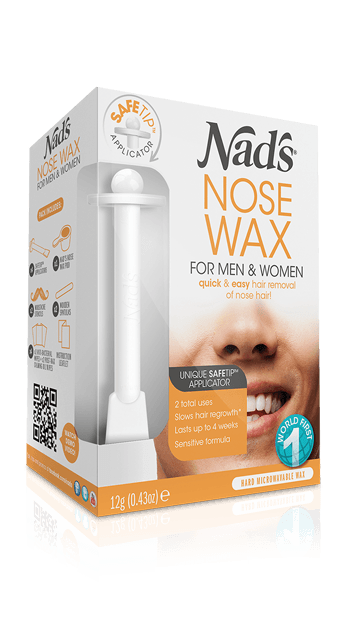 Nad's Nose Wax comes with a unique Nad's SafeTip™ applicator that has been specifically designed to allow insertion, but reduce the risk of over insertion and consequent disruption of sensitive membranes and fine cilia hair that line the nasal cavity. Nad's Nose Wax for Men and Women also comes with antibacterial wipes to reduce the bacteria in the nose.

Nose hair is a natural and necessary part of the body, however it can overgrow it's area. Nad's SafeTip™ applicator is designed to target the hair around the edge of the nostril, only removing the hairs that are sticking out or easily noticed. There is still plenty of hair remaining within the nose and nasal cavity to perform the required physiological functions.

Watch our video below to learn how easy it is to do your own nose waxing safely and more effectively in the comfort of your own home.