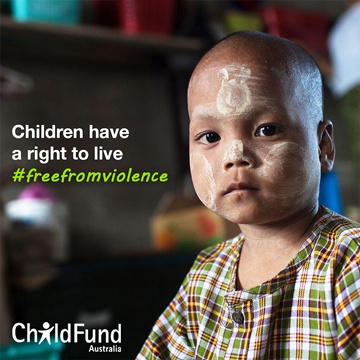 'You may or may not be aware but I am an Ambassador for ChildFund Australia and it's an organisation which is close to my heart, sponsoring 101 children in Ethiopia. It's heartbreaking to think that children may be exposed to violence and exploitation. I've recently participated in a Thunderclap for ChildFund's Free from Violence and Exploitation campaign in order to raise awareness for this extremely, important issue.
We are doing a final push to get as many people as possible to sign our Free from Violence and Exploitation petition. The global ChildFund Alliance is advocating for the inclusion of specific targets to end child violence and exploitation in the post 2015 Millennium Development Goals.
We have 118,000 signatories at the moment – it would be great to get to over 150,000.
World leaders must take action now to guarantee children are #FreeFromViolence #Post2015. Learn more about the petition: https://childfundalliance.org/free-from-violence
By signing this petition, you are helping change the way governments act and helping change children's lives.
Thank you on behalf of the children who are not yet free from violence and exploitation.
Would you take one more step and fill in the MYWORLD survey? www.myworld2015.org