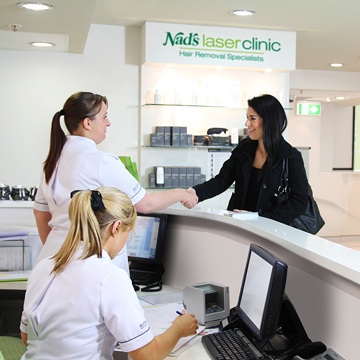 This post was originally featured on startup news site, StartUp Daily.
You have to hand it to Apple, they have absolutely nailed the customer experience, from the moment we receive that weighty white box (that screams 'premium') to the moment we turn on our gleaming new iPhones, our experience with Apple is a series of 'wow' after 'wow'.
In 2007, as Apple was wowing us all with the first iPhone, we were opening the doors on the first Nad's Laser Clinic. From the outset, our focus – just like Apple's – was on what our customers would experience from the moment they heard about us through to the completion of their treatments and the achievement of their beauty goals.
To this day, that has not changed. If anything, our commitment to our clients is more laser-focused (pardon the pun) than ever before.
When it comes to customer service we began with the end in mind. Our goal was to have every person who walked in feel welcome and assured of his or her decision to visit Nad's Laser Clinic. When they walked out, we wanted them to feel cared for, confident and better about themselves. So every decision we've ever made about the experiences and services we offer have been checked back against this single-minded idea: will it help our customers feel welcome, confident and fabulous.
Competing on price is a competition nobody wins. Corners are cut to reign in costs, often compromising client safety, comfort and ultimate results. And businesses fail to thrive because they've built their business on being cheap, and you're only cheap until someone cheaper comes along.
So am I saying that if you're looking for laser hair removal, choose Nad's Laser Clinics? No. I'm saying do your homework. Take advantage of free consultations offered by reputable clinics and only book when you're satisfied with the answers to these questions:
Has the therapist asked you about your long-term beauty goals and are they able to help you achieve them?
What kind of follow-up care and home care do they offer? Remember you're undergoing a cosmetic procedure so what happens after the treatment is as important as the procedure itself.
Is the therapist trained to use equipment by the manufacturer and have they undergone Laser Safety Training? Also, will this person be your regular therapist?
How long will each treatment take? Anything less than hour for legs and there's a good chance your therapist is missing spots.
If you're a business and you're thinking about your product offering, I encourage you to start at the end. How do you want your customers to feel when they've experienced your product or service? What do you want them to tell their friends about your business? Know the answers to those questions and implement the processes to make them happen, and in my experience, you cannot fail.