Time and time again I get asked the age old question…
Why do I get ingrown hairs? Well you're about to find out!
WHY WE GET INGROWN HAIRS?
Ingrown hairs commonly occur on shaved areas, such as the face, neck, armpit, legs, and pubic region.
When your hair on your body is cut short and close to your skin, it creates a sharp tip that can easily pierce the skin. Hair grows in many different directions and the combination of this plus a sharp hair tip can easily cause an ingrown hair.
Shaving most commonly causes your hair to have that sharp tip, however friction from wearing tighter clothing can also restrict the hair from pushing out of the skin and instead cause it to grow internally, hence the term ingrown hair.
Although these are the more commonly known reasons to ingrown hair, sometimes too much dead skin debris, blocks the hair follicle opening which causes the hair to grow sideways instead and this too can cause an ingrown hair.
HOW DO I GET RID OF INGROWN HAIRS?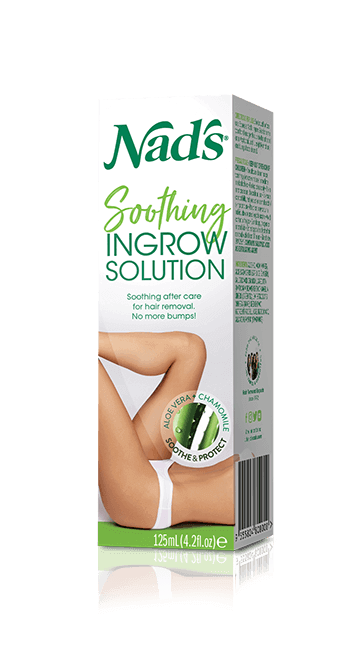 Nad's Ingrow Solution is another alternative option for an ongoing ingrown hair solution. It has been specifically developed to release ingrown hairs and eliminate irritation, redness and bumps caused by shaving, waxing, hair removal creams and electrolysis.
It is important to wait at least 24 hours after hair removal before using the Nad's Ingrow Solution. To find out where to buy the Nad's Ingrow Solution visit our stockists page for your nearest store!